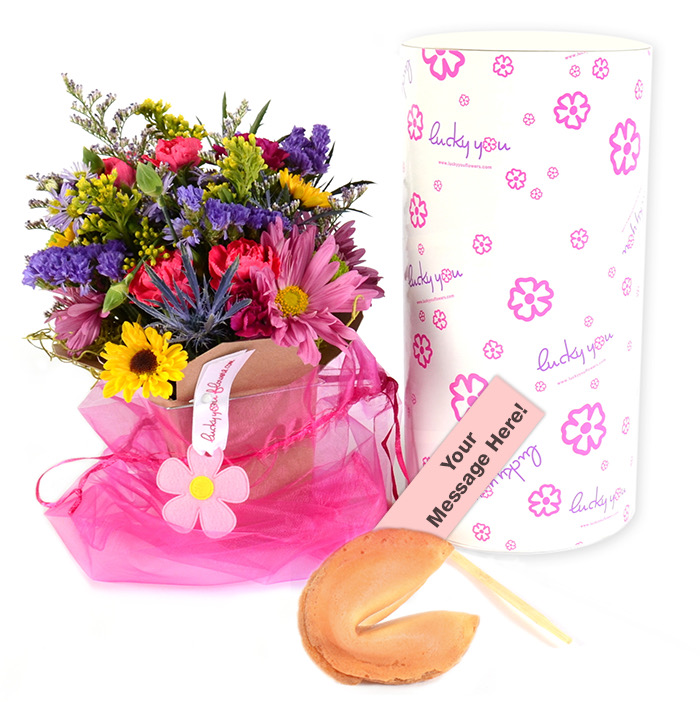 Send a Lucky You Fresh Flower Arrangement Today!
Our Unique Lucky You Flower Arrangements come in an adorable take out box with your personal message tucked inside a fortune cookie!
Only $29.99

FREE

Shipping - Nationwide
Fresh Long Lasting Flowers
Personalized Message Tucked inside in a Fortune Cookie
Personalized Fortune Cookie
Each unique arrangement comes in an adorable take out box and includes a fortune cookie with your personalized message.
Delivered Via UPS or Fedex
Items are gift wrapped and delivered directly to the home or office via UPS or Fedex.  Delivery is between 1-4 days depending on location.
Long Lasting & Professionally Arranged
Each arrangement is professionally arranged and super long lasting, no care required.  After a few weeks, just toss in the recycling bin.
Great For Everyday, Every Month, Every Quarter or just 3 months.
Make someone smile today.  Great for all occasions or no occasion at all.  Spread some Joy!
Want to make someone smile more than just once, subscribe to send them a Lucky You every month, seasonally or for 3 months in a row.